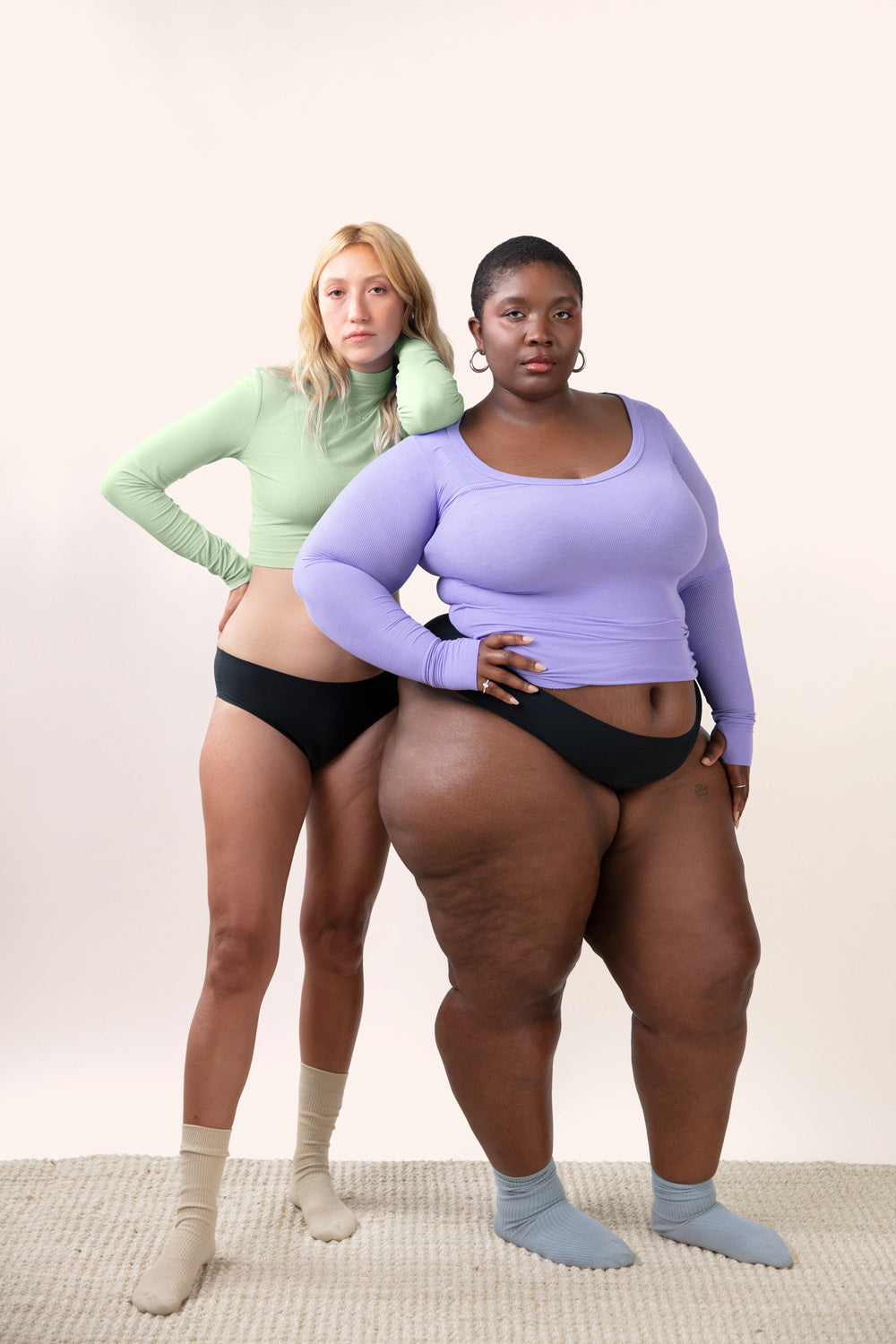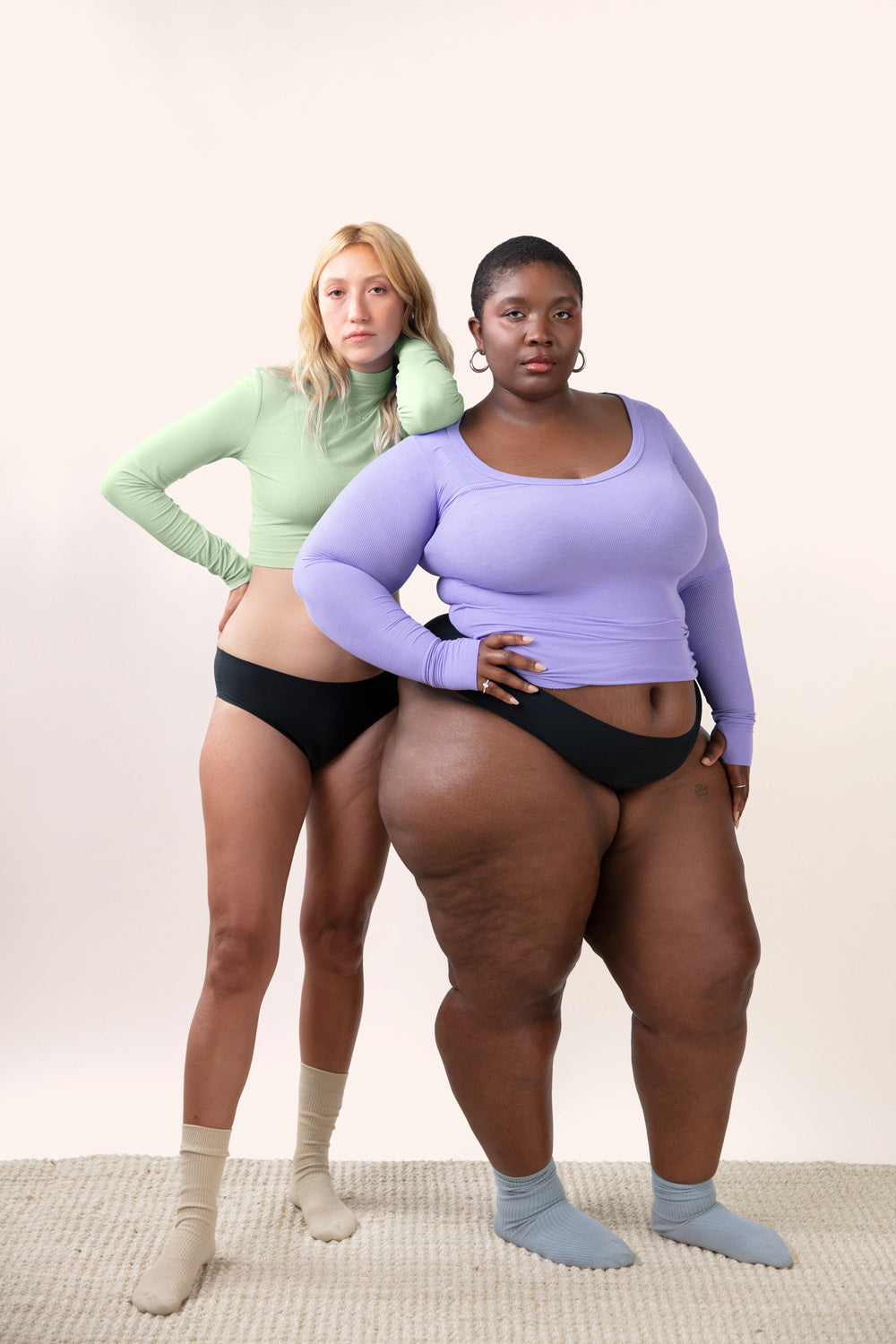 When we set out to design and create
DIVA Reusable Period Underwear
—or any DIVA product for that matter—we do it with
every
body in mind. We wanted to provide all our consumers with more period products to complete their period care line-up. Period underwear was the next logical step.  
DIVA Period Underwear not only replaces the need for pads and tampons but can also be used as extra protection when you're wearing your favorite menstrual cup or disc. It has been rigorously tested for toxic and harmful chemicals to be made safe for both you and the planet. And to really set it apart from the rest, DIVA is the first period company to make leakproof underwear that comes in inclusive sizing, with underwear sizes up to 4XL.
What is it Made Of?
Our period underwear was consciously designed for your all-day comfort and confidence. It's made with the ultimate combination of high absorbency leak protection and our unique DryTec™ moisture-wicking and odor neutralizing technology.  
The ultra-thin, super absorbent 10" gusset is perfectly centered for front and back coverage and absorbs up to 9 tampons worth of flow. It is both zinc-infused to help repel odor-causing microbes and topped with unique DryTec™ fabric that works to wicking moisture away from the body and into the leakproof center layers for all-day comfort and freshness.  
The premium 4-way stretch fabric stretches and moves with you for a fit that feels like second skin. And our seamless design gives you that discrete VPL-free look under leggings, slip dresses, and more!
Plus, it's washable and reusable and sustainably and safely made from recycled fabric, making it a cost-effective and environmentally friendly period choice!
Is Period Underwear Safe?
We set out to make period underwear that you could feel confident knowing was safe for both your body and the planet. As such, our fabric is not treated with PFAS—a group of harmful "forever" chemicals that may carry reprotoxic, endocrine-disrupting or skin-sensitizing properties.   
Other period underwear has been found to contain high levels of PFAS, which indicates they were used as a fabric treatment. PFAS are often used on cookware, workwear and upholstery for its oil, dirt and water repellent properties. Our Period Underwear has been tested to confirm that no PFAS were added as part of the manufacturing process.  
We wanted every body to feel secure, comfortable and safe with DIVA Reusable Period Underwear.
DIVA's Inclusive Sizing
You'll notice that our sizing looks a bit different! Our period underwear comes in XS/S, M/L, XL/2XL and 3XL/4XL. This is thanks to the 81% recycled polyester and 19% elastane 4-way stretch of the underwear body. Each pair is intended to generously stretch and conform to multiple body shapes and sizes.
Finding Your Size
The best way to determine the right size
DIVA Period Underwear
for you is to study our sizing guide. Measure both your waist (at your belly button) and your hips (the widest part). Once you have these two numbers, check in to see what size of period underwear they correspond to.  
XS/ S:
Waist (23-28''), Hip (32-38")
M/ L:
Waist (29-34''), Hip (39-44")
XL/ 2XL:
Waist (35-40''), Hip (39-44")
3XL/ 4XL:
Waist (41-45''), Hip (51-56")
Pant Size Comparison
Comparing these to pants sizes might also help you determine the right fit for you. All size comparisons are US pant sizes.  
XS/S
= 0-6
M/L
= 8-14
XL/2XL
= 16-22
3XL/4XL
= 24-30  
Given that our sizes might look a little different and based on consumer research, if you prefer a snugger fit, consider sizing down. If you're looking for a looser, yet still secure fit, considering sizing up.  
Always rinse DIVA Period Underwear in cold water immediately after wearing. Once laundering, hang to dry—DIVA Period Underwear is not intended to be machine dried.  
If all else fails, our
Consumer Experience Team
is always on hand to answer your questions and help you find your size!
References
Centers for Disease Control and Prevention. "Per- and Polyfluorinated Substances (PFAS) Factsheet | National Biomonitoring Program | CDC." Www.cdc.gov, CDC, 24 May 2019, www.cdc.gov/biomonitoring/PFAS_FactSheet.html.
National Institute of Environmental Health Sciences. "Perfluoroalkyl and Polyfluoroalkyl Substances (PFAS)." National Institute of Environmental Health Sciences, 9 Mar. 2023, www.niehs.nih.gov/health/topics/agents/pfc/index.cfm.