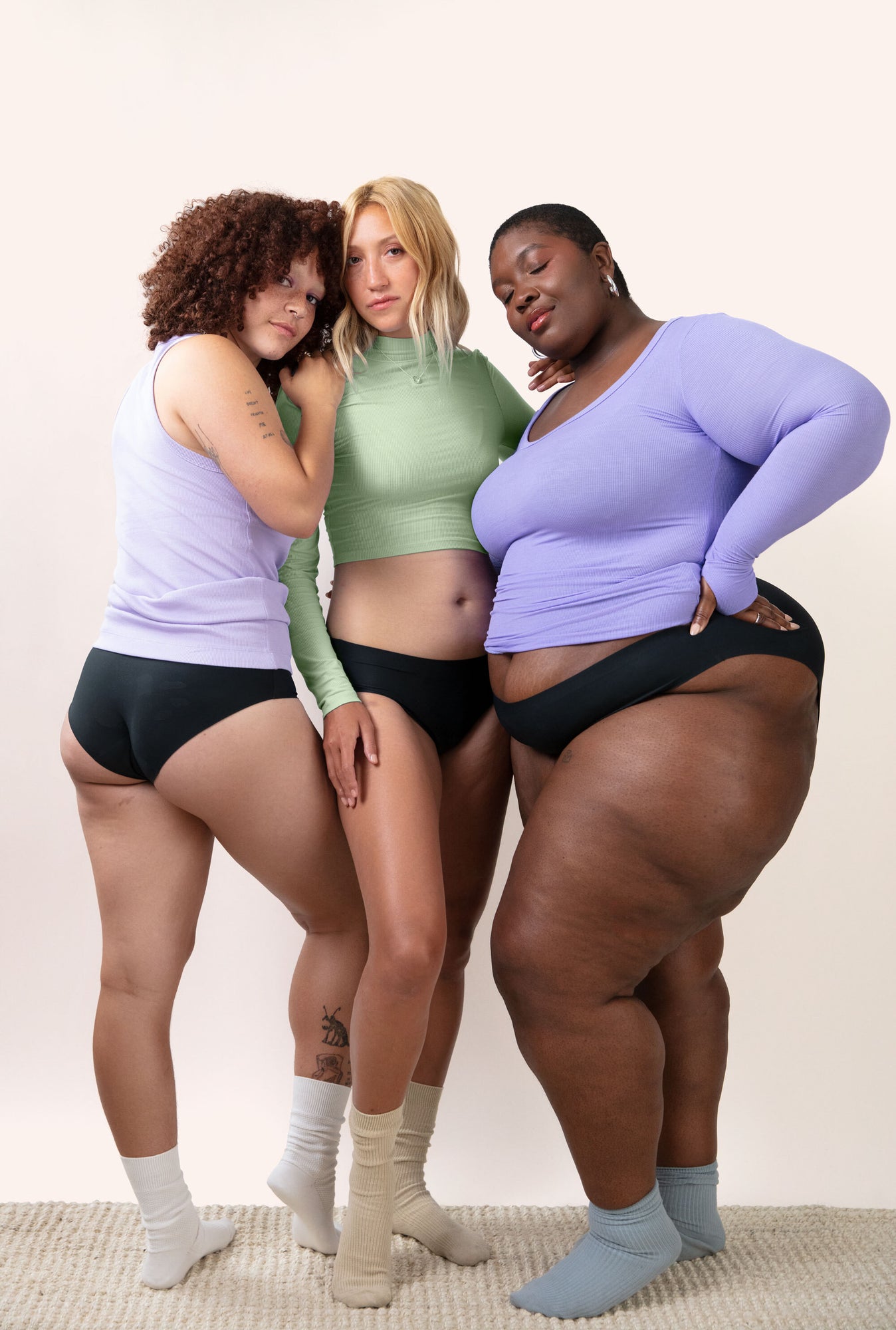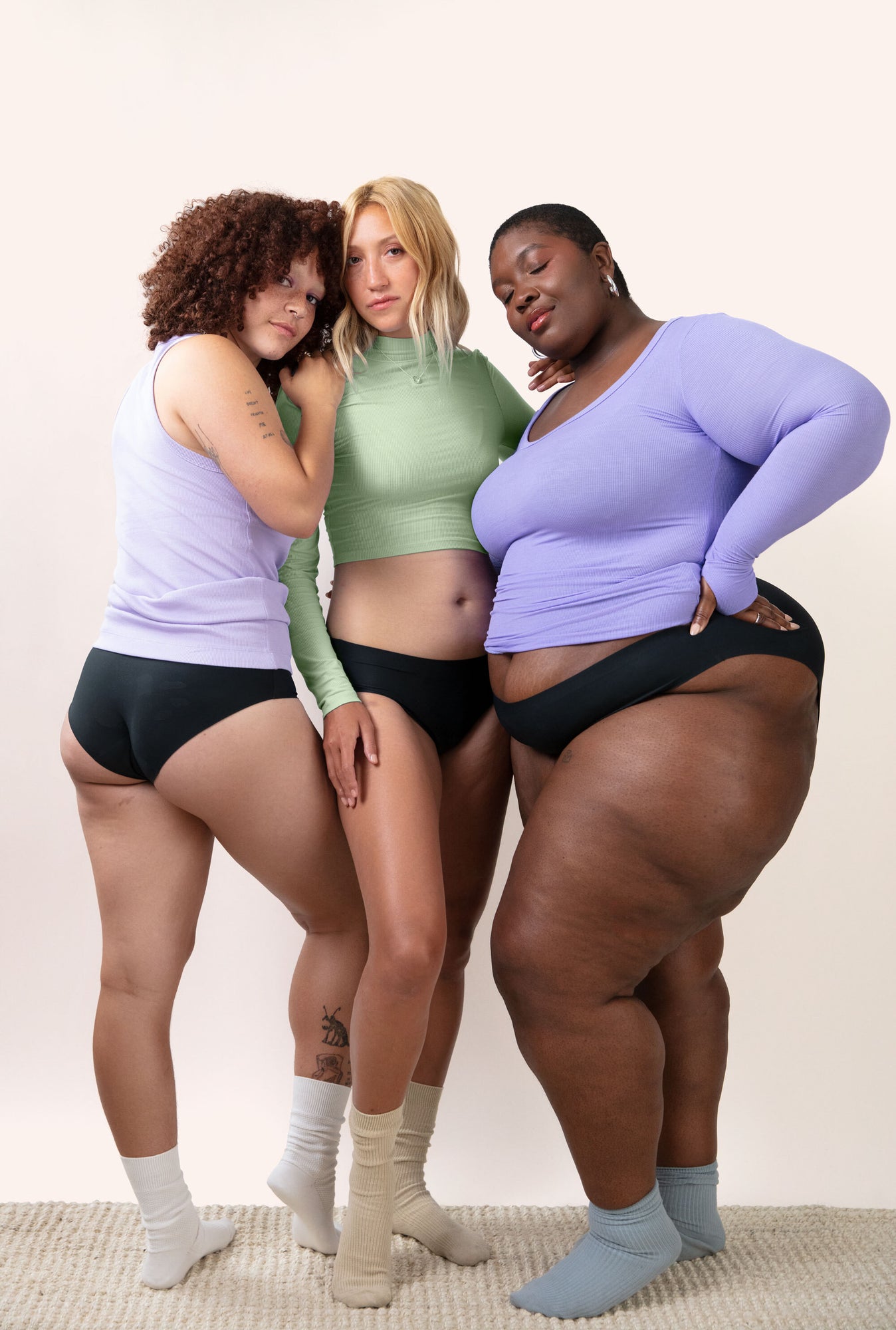 Wearing period underwear works for light flow days to heavy flow days, for extra protection with your tampon or menstrual cup, or just for everyday wear. Simply wear and wash and wear again for a reusable leakproof period product that is cost-effective, better for the environment, and comfortable to wear!
How Does Period Underwear Work?
Our period underwear was consciously designed for your all-day comfort and confidence. It's made with the ultimate combination of high absorbency leak protection and our unique DryTec™ moisture-wicking and zinc-infused odor neutralizing technologies.  
The ultra-thin, super absorbent 10" gusset is perfectly centered for front and back coverage and absorbs up to 9 tampons worth of flow. It is both zinc-infused to help repel odor-causing microbes and topped with unique DryTec™ fabric that works to wicking moisture away from the body and into the leakproof center layers for all-day comfort and freshness.  
The premium 4-way stretch fabric stretches and moves with you for a fit that feels like second skin. And our seamless design gives you that discrete VPL-free look under leggings, slip dresses, and more!
Plus, it's washable and reusable, and sustainably and safely made from recycled fabric, making it a cost-effective and environmentally friendly period choice!
What Makes DIVA Period Underwear Different?
Maybe you've tried other pairs of period underwear before. But you haven't experienced leak proofing like this!
 
Creating DIVA Period Underwear has been a dream of our co-founder, Carinne, for a long time. With our approach to innovation being purposeful, performance-driven, and sustainable, we decided to start by perfecting one style, from the cut and fit of the fabric, to the quality of materials, thinness and coverage of the gusset. We wanted to make period underwear the DIVA way.
 
We performed substantial consumer research and testing, and then started our design for a seamless bikini brief—Carinne's favorite style of regular underwear.  
 
We went through five rounds of consumer testing with various prototypes. Dozens of testers tried our period underwear for both fit and function. And we didn't stop until the design was perfected based on their feedback.
 
Consumers were favorable to a higher mid-rise, so we adjusted it. They noted wanting a generous waistband and leg, with a stretchy fit that provided both comfort and security—we did it. In the end, they loved the fit!
 
Not to mention, the absorbency allowed them to feel protected from leaks all day and overnight. One tester even said that the moisture wicking technology made it so that she didn't even realize her period started because the absorbent layers wicked away any feeling of wetness so effectively!


Testing for Efficacy and Safety
Our absorbency testing far exceeded our expectations. We didn't want our high absorbency period underwear to end up feeling thick or bulky. To avoid this, we developed an ultra-thin, ultra-absorbent gusset and took it to testing to get a thorough understanding of just how much artificial menses—a thickened substance with a similar flowability to real menses—it could hold.  
Normally, when period underwear is tested, a predetermined volume of artificial menses is used, usually around 30mL or equivalent to 6 tampons—the amount held by our
Model 2 DIVA Cup
.  
Instead, we were determined to test our underwear to the point of
leaking
, which meant we continued to add artificial menses
until it leaked
. We were amazed to find that our period underwear held 45mL of artificial menses, the equivalent of 9 regular tampons' worth of blood, and more than our
DIVA Disc
.
On top of that, we had tested this using our smallest size, XS/S, which means the larger sizes have an even higher capacity!
Is Period Underwear Safe?
At DIVA, we strive to ensure our products are made safe for both your body and the environment. With that in mind, DIVA's period underwear is created using fabrics that have no added PFAS and has been third party tested to ensure maximum consumer and product safety. PFAS are a group of synthetic chemicals that have been used in consumer products around the world; they do not degrade in the environment and are harmful to our bodies.
We worked with a manufacturer that is expert in creating undergarments and is OEKO TEX 100 Certified. OEKO TEX is one of the world's best-known certification processes for textiles tested for harmful substances.
When to Wear Period Underwear
Wearing DIVA Period Underwear means all-day confidence and protection, so you can live a life unrestrained by menstruation, and more!  
Wear them as:
Overnight protection,

Any flow, all-day wear,

Back-up protection when using a tampon, menstrual cup, or menstrual disc,

While working out.
At DIVA, we believe everyone should have access to the period products they need to take care of whatever kind of period they're experiencing. And now, with the innovation of our new
Period Underwear
, we can provide you with
all
your period essentials.
Shop our whole line-up of environmentally friendly cycle care products at
ShopDiva
today!