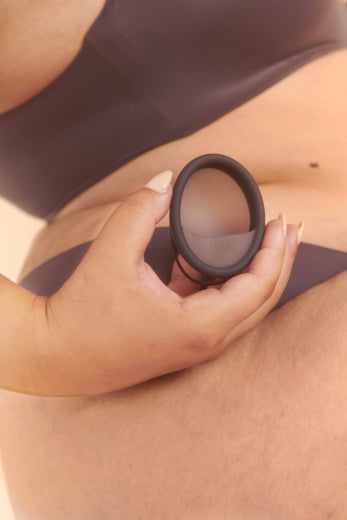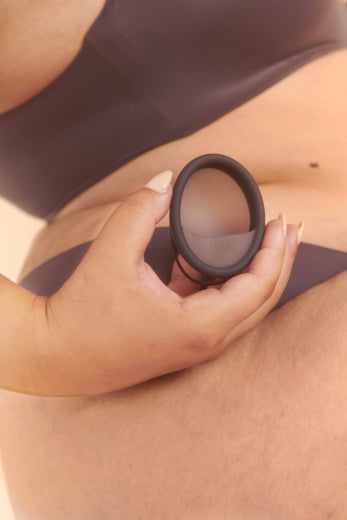 Our disc is unlike any other disc in the market, and whether you've never tried a reusable menstrual disc, or you've tried them and didn't like them—we think ours will change your mind.
DIVA's reusable menstrual disc is a safe and comfortable alternative to tampons. It's designed to collect menstrual blood–as much as 7 tampons' worth!—and can be worn for up to 12 hours of continuous period protection. Emptying is easy, mess-free, and much less frequent than tampons, giving you more freedom to live your life. When cared for properly, your DIVA Disc can last several years. It is waste-free and recyclable through our partnership with TerraCycle.
What Makes the DIVA Disc Different from Other Reusable Menstrual Discs?
Maybe you're only just learning about reusable period discs, or maybe you've tried a bunch. Either way, we're about to introduce you to a real period game-changer.

If you've tried one, you know that it is an eco-friendly reusable disc that collects menstrual flow better than tampons and pads with barely-there comfort. Unlike the DIVA Cup, which sits lower in the vaginal canal, the DIVA Disc sits higher up. It tucks behind the cervix and is propped up by the pubic bone. This makes the DIVA Disc suitable for those with lower cervix height, as it is shallow and has no stem, like traditional menstrual cups do.
But we've also made sure that the DIVA Disc solves problems that many disc users often complain about. What sets the DIVA Disc apart from the rest?
Period Care, re-invented
Problem 1: Messy removal, mid-wear leaks
Have you ever heard of "mid-wear leaks"? This refers to a phenomenon wherein menstrual discs can start to empty a little bit when you're using the bathroom. While it's normal for discs to do this, we know that it prevents some users from reaching for their discs as their preferred period care method. We've developed a patent-pending Leakproof Shield™ to help solve this issue. The Leakproof Shield™ is a flexible guard that partially covers the basin, keeping your menstrual blood in the sloped basin—not only when you're using the bathroom, but when you're ready to remove as well.
Problem 2: Difficult to remove
See that loop around the front of the disc? That's our anti-slip pull tab. Many discs require you to hook your finger over the rim of the disc to remove, which can be difficult and messy. When your DIVA Disc is inserted, this anti-slip pull tab (which has soft grips where you hook your finger in) stays within reach so you can easily pull out your disc when it's time to empty and clean.
Problem 3: Rotation while wearing
The DIVA Disc has a unique oval-shaped design, which helps it stay in place. This, in combination with the Leakproof Shield™ and the anti-slip pull tab, means easy, mess-free removal.
It is our latest iteration in eco-friendly period products and we can't wait to hear what you think.
What else do I need to know?
One size of the DIVA Disc fits most, so you don't need to do any guessing when it comes to size. And it holds up to 7 tampons' worth of flow. That's enough protection for heavy menstrual bleeding, but with a sleek design that is comfortable for those with lighter flow.
The DIVA Disc is made with 100% medical grade silicone and pigment. It is soft and flexible with a firm rim for a comfortable and secure fit. BPA and phthalates-free, so it won't interfere with your vagina's natural pH. The DIVA Disc has been consciously designed to increase comfort, ease of use, and guarantee up to 12 hours of continuous protection. And, when it's time to replace your DIVA Disc? It's fully recyclable through our DIVA Recycles program.
Available now in limited quantities, exclusively at ShopDiva.com and Period.Shop. $35.