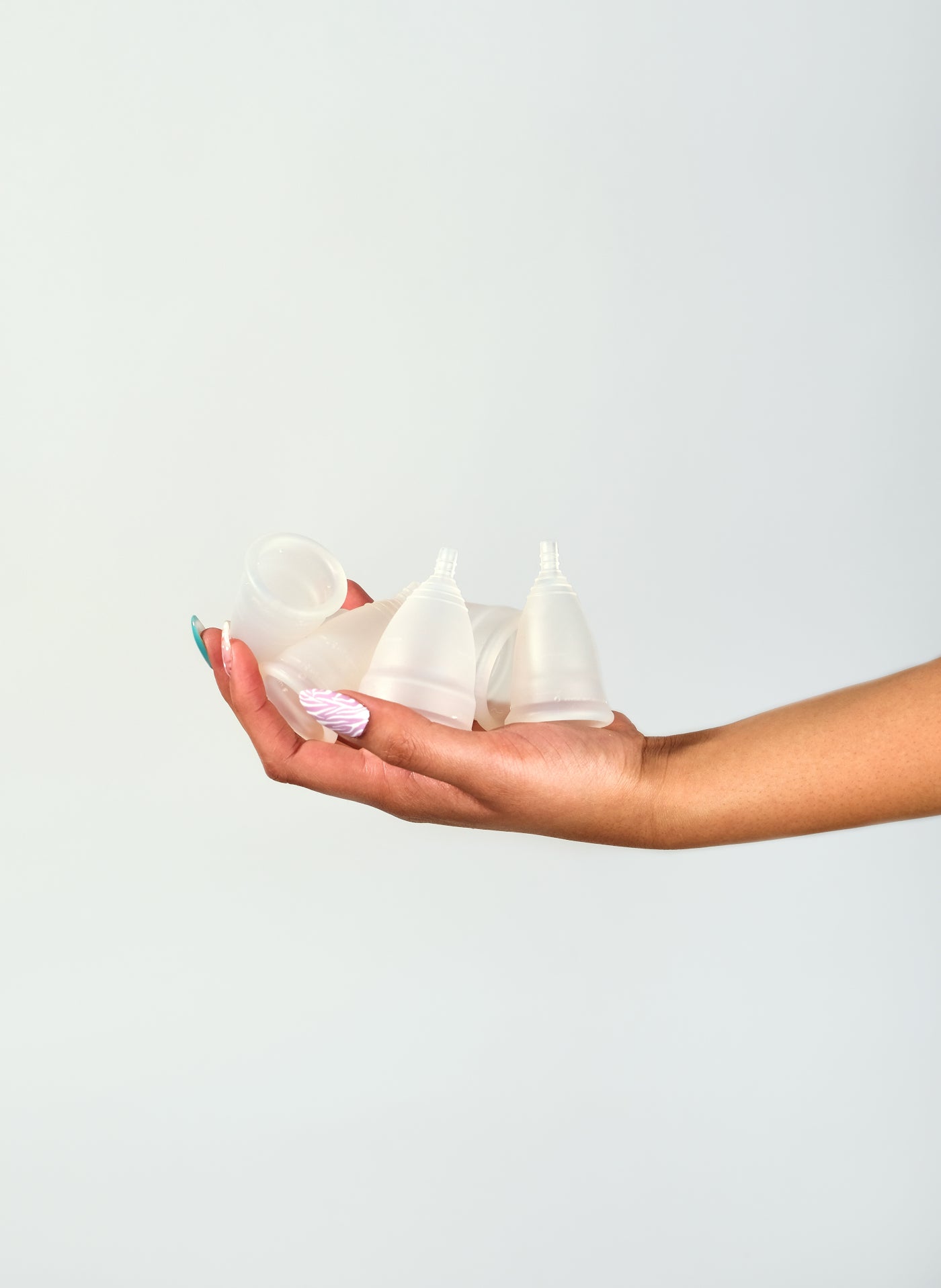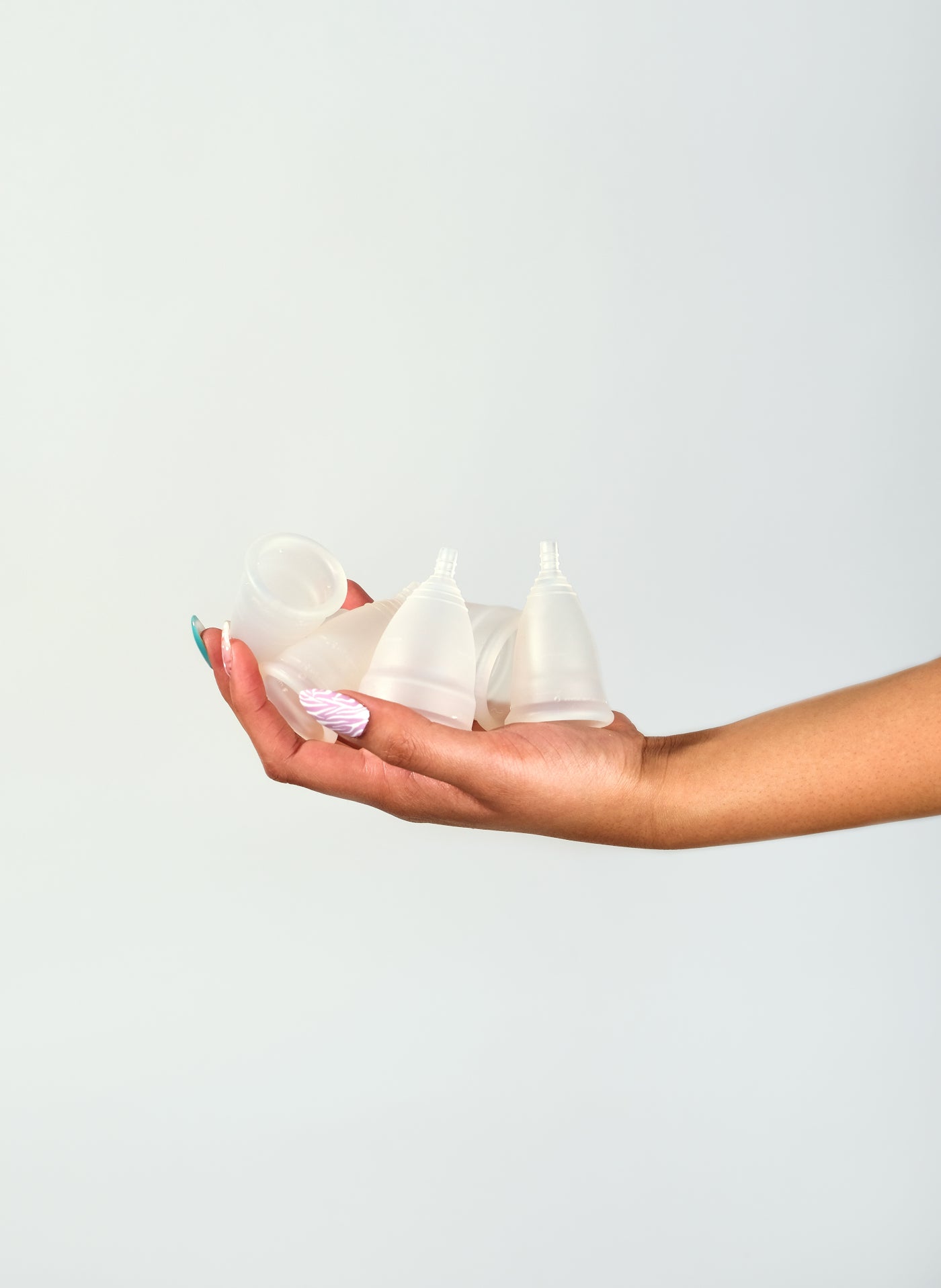 When purchasing a menstrual cup, there's likely several menstrual cups available on the shelf. If you go online, there are even more. With countless choices available, ranging in size, color, shape, material and firmness, it makes sense you would have some questions. 
Well, we're glad you're here. Choosing the right menstrual cup isn't just about how the cup looks.  
10 Questions to Ask Yourself When Purchasing a Menstrual Cup 


1. What material is the menstrual cup made of?  
Not all menstrual cups are created equal. While the DivaCup is made of 100% medical grade silicone, a material with a proven track record of compatibility with the human body, not all are. Most menstrual cups today are made of silicone because of its durability and hypoallergenic properties, but that doesn't necessarily mean it's made of "medical grade" silicone. Why does this matter? Because unknown sources of silicone can be a danger to your health and could contain substances with unknown contaminants.
Keep in mind, some menstrual cups are made of latex, plastic or rubber, too. That's why it's important to ask yourself what the menstrual cup you're interested in purchasing is made from. Which brings us to the second question you should ask. 
2.
 

Do they disclose ingredients? 

In most places around the world, period product manufacturers do not have to disclose the ingredients that are in their products, and this includes menstrual cups. We believe that if there's nothing to hide, then why hide it? Diva voluntarily shares the ingredient in our products, which is simply 100% medical grade silicone. The DivaCup is BPA-free, with no added chemicals, plastics or dyes. 

A lot of menstrual cup companies offer their products in a rainbow of different colors. DivaCup has always used unpigmented silicone because we don't want to add any extra, unnecessary ingredients like dye to our products. This is a choice we have made to avoid any compromises to our consumer's health. So, until the effects of colors and dyes on the body are better understood, DivaCup has decided to err on the side of caution. Plus, a transparent cup can help you track your flow easier. 
3. How and where is the menstrual cup made? 
When looking into purchasing a menstrual cup, consider looking into how, and where, it's made. No matter what menstrual cup you end up choosing, this is probably one of the most important questions to ask yourself.  
Not every company values quality over profit. Diva has made quality assurance a top priority from our ingredients, from manufacturing, to distribution. The DivaCup is manufactured and packaged in Canada and was the first ISO 13485:2016 certified menstrual cup manufacturer and head office in the world, under the Medical Devise Single Audit Program (MDSAP). What does all that mean? A company's ISO certification ensures they have a quality management system specific to medical devices, that it's made safely and effectively, and consistently meets quality expectations. 
And we're happy to add, the DivaCup is cruelty free and vegan! 
4. Is the menstrual cup registered with Health Canada and/or FDA?  
ISO Certification is just one way to ensure quality. Many countries around the world require that menstrual cups are compliant to health regulations. Each regulatory body operates differently and Diva has successfully achieved market clearance in some of the most stringent countries in the world, including Canada, USA, Australia, South Korea, Ecuador, Peru and Mexico.  
Diva has made quality assurance a top priority and has successfully achieved market clearance in some of the most stringent countries in the world, including Canada, USA, Australia, South Korea, Ecuador, Peru and Mexico.  
Always be an informed consumer and make sure the menstrual cup you are considering can prove their compliance, for your safety. 
5. What sizes are available, and does the company offer guidance to support sizing decisions? 


Size matters. When choosing a menstrual cup, it's important to do your research into what size is most appropriate for you. Most menstrual cup companies offer their product in at least two different sizes. The DivaCup currently has three sizes available. There should be guidance on what size is the right size for you either through specific sizing guidelines, or a way to reach a member of their consumer support team with more questions.  
Diva has a dedicated Consumer Support Team that can assist you over the phone, email, or on social media. They are dedicated experts who can offer support and guidance with any questions you may have. 
6. What functionalities does the cup have in terms of the stem, firmness, shape and seams? 
Menstrual cups come in all shapes and sizes, with varying features. This is something not many people realize, or put much thought into, but a lot of thought goes into these functions when designing a menstrual cup. Here's what to look for: 
Stem: Most menstrual cups have a stem on the bottom. The purpose of a menstrual cup stem is to act as a guide, helping you to locate your cup for easier removal. Stems themselves come in all different shapes and sizes: some are long, some short, some are round, some a nub, some stems are a ring, and some have no stem at all. You should not be able to feel the stem if inserted correctly. If you feel the stem is too long, the DivaCup can be easily trimmed for a better fit. 
Firmness: The firmness of a menstrual cup is important. Finding the right firmness for your body will make a huge difference in comfort and effectiveness. A soft cup can often be more comfortable, especially for those who experience cramping or have bladder sensitivity but can be harder to open properly once inserted. A firm menstrual cup might be preferable for people who have experienced their cup slipping down, and many physically active women have said they prefer a firmer cup. Most people, however, prefer using a medium-firm cup, like the DivaCup, which is also recommended for those who are new to menstrual cups.  
Shape: There are four main menstrual cup shapes: bell-shaped, v-shaped, round and "ergonomic". The shape that is best for you will be determined by the position of your cervix. Every body is different. Cervix height varies, but in most cases, the DivaCup will sit well below the cervix. Have more questions? Check out our blog post Get to Know Your Cervix. 
Seams: Some menstrual cups will have a seam running from the stem to the rim, while others have their seams around the rim and some are seamless. This is due to how it's manufactured. It's important to understand a seamless menstrual cup is made with injection molding rather than a compound mold, which is a cheaper process.  The seam, in some cases, can be rough and be an irritation, or worse, can scratch the vaginal wall. The smoothness of the seamless cup like the DivaCup is more comfortable and less of a chance for irritation. 
Markers: The DivaCup has markers on the side of it to help users measure how much flow they have. This can be a very handy feature for people who need to track their menstrual flow, especially if they suspect they have a health condition such as endometriosis. When seeking medical advice, it helps to be able to let the doctor know exactly how much menstrual flow you experience. 
7. Is the packaging (and other inclusions) recyclable? Do they use vegetable ink? 

In our opinion, packaging is only cute when it's also environmentally friendly.  
We're happy to see more people taking the environment into account when making their purchasing decision. Not only is switching to the DivaCup a more eco-friendly way to period, but our packaging is too. The DivaCup packaging is 100% recyclable and printed using water and vegetable-based inks. (Vegetable-based inks breakdown easier, aiding in the recycling process.) 
8.
 

What are other people saying about it? 

Most people make their purchasing decisions based on what they've heard from others who have tried it, because typically, we trust those people. So, ask yourself, what are other people saying about it? Do you know anyone who uses it who can share their experience?  

Make sure to always check reviews, too. The DivaCup has nearly 8,000 5-star reviews on Amazon. 
9. Is the cup sold by a known and reputable retailer? 
Known and reputable retailers are not likely to sell a product that is unsafe. So, chances are, if you see it on the shelf at your local retailer, it's probably safe to use. However, there are a lot of cheap, "generic" cups available for purchase that are likely not made from FDA cleared silicone, TPE or rubber. Just be careful and keep this in mind. 
In 2019, Diva introduced a holographic sticker on the side of DivaCup boxes. This is an authentication hologram and to help consumers verify they have an original DivaCup. You can learn more about these holographic stickers in our FAQs.  
10.
 

How much does it cost? 

Like most things in life, when purchasing a menstrual cup you get what you pay for. If you find a menstrual cup online for just a few dollars, chances are it is not from a certified, reputable company that prioritizes your health and best interests over profit. When you pay $40 for a menstrual cup, remember, you're paying for a high-quality product that is safe to use, and will still save you money over time compared to disposables! 

If you have any more questions or concerns, please reach out to our Consumer Experience Team.